TEAL Has Verballed 7 D1's & more to come!!!!
3 to the ACC; 3 to A10; 1 to AAC!!!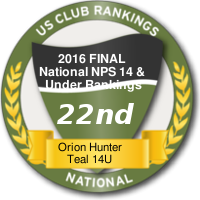 Teal is a National Showcase team
comprised of 2019 and 2020 grad years.

The Teal team was created 5 years ago in 2012. The team before showcasing won over 500 games and 80 Championships. Since showcasing, the group has verballed 5 to Div 1 schools and has had offers made to every player on the team!!!


Orion Hunter Teal is looking for 2019-2020 players that have verballed to play college ball and need to play a competitive schedule or players looking to showcase. We are playing a combination of 16u / 18u tourneys that will be mainly National Showcases in the summer of 2018.
**Every player on our team has several schools interested in them.
Please contact Coach Larry at 757-560-0742 if interested. ​




---